The Southend Taxi Co-operative is a community of local Southend Taxi drivers, with an ethos of taking care of and being part of our local community.
Our drivers and telephonists have excellent knowledge of the local area and our customers needs. We always provide a personal service, planning your journey from pick up to drop off, on time and in both comfort and safety.
Call 01702 333444 to order your Southend Taxi, you will then receive a text stating the driver's name, the type of vehicle and it's colour along with the vehicle registration number.
Once your vehicle arrives, you will receive another text letting you know we have arrived, it's really that simple. So please support us and be part of your Southend Taxi Co-operative, supporting the local community.
Call us or download our App from your Android/Apple store today!
We like to remember our manners so would like to say thank you to all our amazing customers whom we have come to know &
Read More »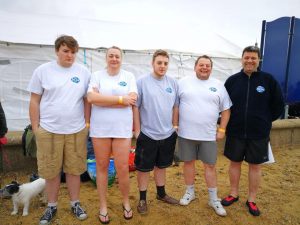 On New Year's Day 2018, 333444 Southend Taxis took to the water, raising some £130 for the RNLI. The RNLI has saved countless lives over
Read More »
Hi everyone, a group of drivers, their familes and our office staff from 333444 Taxis will take the plunge on New Year's day after a
Read More »
michael o'farrell
2022-09-13
Firstly I have to admit I drive for the coop which I joined only 6 weeks ago. I've been a cab driver for 35 years plus. My one regret is that I didn't join years ago. The coop is run by taxi drivers who ,unlike other companies ,are non profit making and therefore their priorities are looking after their customers first and their drivers. The office staff are brilliant , courteous,honest and truthful in dealing with both customers and the drivers. I had become totally disappointed on the company I had tried to serve loyally for all those years, a loyalty which I realised under their management meant nothing to them. I would like to lastly thank the directors for giving me this great opportunity in allowing me to work for the coop and restoring my faith in great service to our Southend existing and prospective customers.
Definitely the most reliable taxi service around. Leigh on sea taxis are POINTLESS. Southend taxis are the best. Have now helped me out 3 times after the terrible taxi service of 334455, so I've deleted the AC radio cabs app and will only use 333444! Always prompt, never an issue and should be the go to for anyone in Southend or Leigh on sea areas.
Charlotte Ryan
2022-08-31
My cab driver Andre is the nicest cab driver I have ever been in a cab with. I needed to get to Gatwick Airport early in the morning, he arrived on time. It was very stormy and I don't like flying, but he put me at ease and drove very calmly. I would definitely use this company again. Thank you Andre.
Candice Charles
2022-08-30
Called up for the 1st time today and really want to give this firm a big shout out. Staff in the office were amazing and listened to my needs. My driver Rob was very chatty which was nice. I would recommend this firm.
Steve Bellinger
2022-08-29
Friendly, helpful and always reliable… Love the fact that all drivers accept card payments! Can't recommend these guys enough!! Fantastic Service!
I am always so impressed with the ladies on the switchboard; they are always honest and kind. The drivers on 333444 are courteous, polite and helpful. I will be using them all the time now because the other local Taxi Firms are rude and unreliable. Thanks 333444 👍👍👍