The Southend Taxi Co-operative is a community of local Southend Taxi drivers, with an ethos of taking care of and being part of our local community.
Our drivers and telephonists have excellent knowledge of the local area and our customers needs. We always provide a personal service, planning your journey from pick up to drop off, on time and in both comfort and safety.
Call 01702 333444 to order your Southend Taxi & 01268 333444 For your Rayleigh Taxi, you will then receive a text stating the driver's name, the type of vehicle and it's colour along with the vehicle registration number.
Once your vehicle arrives, you will receive another text letting you know we have arrived, it's really that simple. So please support us and be part of your Southend & Rayleigh Taxi Co-operative's, supporting the local community.
Call us or download our App from your Android/Apple store today!'s
We like to remember our manners so would like to say thank you to all our amazing customers whom we have come to know &
Read More »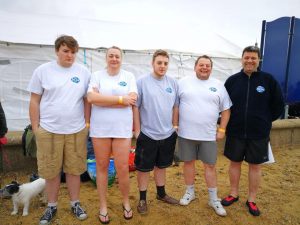 On New Year's Day 2018, 333444 Southend Taxis took to the water, raising some £130 for the RNLI. The RNLI has saved countless lives over
Read More »
Wanted to thank the taxi driver who kindly picked up my son and his friend and drove them away from a violent drunk man who was threatening them for no cost. Thank you so much
Michelle Ferola
2023-05-17
Used this cab over the weekend,very professional highly reccomend.
Aaron Marshall
2023-05-13
Always arrive pretty quick, drivers have always been friendly, reasonably priced compared to London.
Having used this company a number of times before and thought how friendly and professional they were - I was amazed last night after 11:30pm by the incredible service Graham one of your drivers gave us. My wife picked me up from Thorpe Bay Station, but for whatever reason she was unable to re-start her car due to a flat battery. I went across to your driver and asked if he had any jump leads, he said no - but after delivering his last customer on that shift to Shoebury, he would go home and collect a battery pack and return - he did, it worked and he refused any payment for his off duty time. He said 'Pay it Forward' which I will do. Thank you very much Graham and you work for an outstanding company.